MAGA Style – Here's What Trump Was Doing After Learning Of His Indictment (Video)
Former President Donald Trump refused to let news of his indictment stand in the way of his plans Thursday night, according to a new report.
According to The New York Times, Trump was at his Bedminster, New Jersey, golf club Thursday evening as a call came informing him that the indictment — foreshadowed for days — had in fact been handed up by a grand jury.
"He thought about it," attorney James Trusty said, describing Trump's reaction to the indictment.
"He said: 'This is just a sad day. I can't believe I have been indicted,'" Trusty said, adding, "Those are kind of my — my summary words of what he had to say."
"But, at the same time, he immediately recognizes the historic nature of this. This is crossing the Rubicon," he said, referring to the indictment of a former president seeking to regain the White House while facing off against its current occupant.
But whatever was going on inside, Trump refused to change his plans for the evening once the process of issuing statements to the media was complete.
About 90 minutes after getting word of the indictment, Trump had dinner outdoors at Bedminster, the Times report said.
Later in the evening, according to a source the Times did not name, sporting his trademark Make America Great Again cap, Trump played the role of D.J., using his iPad to play Elvis, Pavarotti and James Brown.
And here's a video of Trump just rocking in MAGA style on the golf course:
The field of Republican presidential candidates rushed to issue statements following Thursday night's indictment of former President Donald Trump. While the majority rebuked what they claimed is a politicized justice system, some of Trump's rivals couldn't stop themselves from throwing barbs in their statements.
In the hours following a sudden indictment of Trump by the Biden Department of Justice (DOJ), Florida Governor Ron DeSantis and his rivals polling in the single-digits largely agreed that Trump is being unfairly targeted and deserves the presumption of innocence. One candidate, former Arkansas Governor Asa Hutchinson, reiterated his call for Trump to drop out.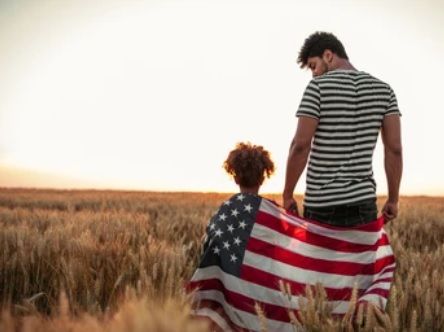 Mark Van der Veen offers some of the most analytical and insightful writings on politics. He regularly opines on the motives and political calculations of politicians and candidates, and whether or not their strategy will work. Van der Veen offers a contrast to many on this list by sticking mainly to a fact-based style of writing that is generally combative with opposing ideologies.