Video: WH Staff Screams At Reporters In A Desperate Attempt To Stop Them From Asking POTUS Simple Questions – Biden Reacts Like A Communist Dictator
President Joe Biden met Ecuador President Guillermo Lasso on Monday to discuss efforts to stem the flow of migrants to the United States as the White House faces increased pressure over its immigration policies.
The Biden administration is required this week to lift Title 42, a public health order first issued under former President Donald Trump that allows U.S. Customs and Border Protection to rapidly expel migrants to Mexico or back to their home countries to prevent the spread of the COVID-19 virus in U.S. holding facilities.
Biden and Lasso sat beside each other in the Oval Office to begin their discussions.
"Today we're going to keep building on the progress we've made. Together we've made historic strides on migration," Biden told reporters.
Lasso said he and Biden would affirm democratic values of liberty and respect for human rights.
"We were the first country in Latin America that condemned the Russian attack on Ukraine. We believe in multilateralism, we believe in the international rule of law, we believe that dialogue is the best formula to resolve differences," Lasso said.
U.S. lawmakers, both Republicans and Democrats, on Sunday pressed Biden to take action to manage an expected wave of asylum seekers at America's southern border.
U.S. Senator Joe Manchin, a conservative Democrat, appearing on the CBS News "Face the Nation" program on Sunday, urged Biden to ask for an extension of Title 42.
"The president needs to find a way," Manchin said.
Lasso visited the White House after former U.S. Senator Chris Dodd, who is Biden's special adviser for the Americas, extended an invitation on the president's behalf during a recent visit to Ecuador.
But how this meeting ended makes our country really similar to the communist dictatorship!
Biden's handlers didn't allow the reporters to ask any questions and yelled at them to go away and in the end, they even took their cameras as the video we have ended earlier than expected.
But what makes things even worse is the way how Biden reacted.
He decided to smirk until reporters were chased away from the WH.
Video below:
(This post may contain disputed claims. We make no assertions as to the validity of the information presented by our Opinion Columnist. This is an opinion article, and this post should be treated as such. Enjoy.)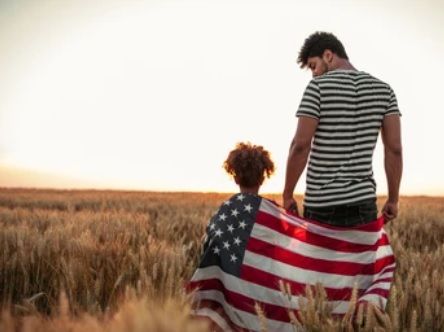 Mark Van der Veen offers some of the most analytical and insightful writings on politics. He regularly opines on the motives and political calculations of politicians and candidates, and whether or not their strategy will work. Van der Veen offers a contrast to many on this list by sticking mainly to a fact-based style of writing that is generally combative with opposing ideologies.