Photos: A Biden Staffer Tried To Make Dark Brandon A Thing But Copied A Meme From 4chan With A Reich Eagle In The Background
The "Dark Brandon" meme has exploded on Twitter.
The term "Dark Brandon" started surfacing on social media in early 2022, according to Know Your Meme, as a reflection of the "Dark MAGA" trend created by Trump supporters wishing for the former president to make a vengeful, unhinged comeback into U.S. politics.
The "Dark Brandon" meme, combining the infamous anti-Biden "Let's Go Brandon" catchphrase and the aesthetics of "Dark MAGA," was initially meant to show an unhinged, almost diabolical, and monster-like version of the president, in mockery of Biden's perceived real-life lack of strength.
Dark Brandon was created by Chinese propagandists to mock him after they saw Dark MAGA:
The meme was then used by the right as irony, with depictions of President Joe Biden, who the public largely sees as too old for office. Twitter has now obliterated the #DarkMAGA hashtag, and not a single DarkMAGA meme can be found in search results. Twitter thinks SuperTrump is not fit for public consumption, especially since Biden's government officials are out in force promoting their cartoon of a President.
This is the Deputy Press Secretary tweeting a Dark Brandon meme https://t.co/Cc51VEjirI

— Populism Updates (@PopulismUpdates) August 8, 2022
The same guy tried to make Dark Brandon a thing but copied a meme off of 4chan with a Reich Eagle in the background: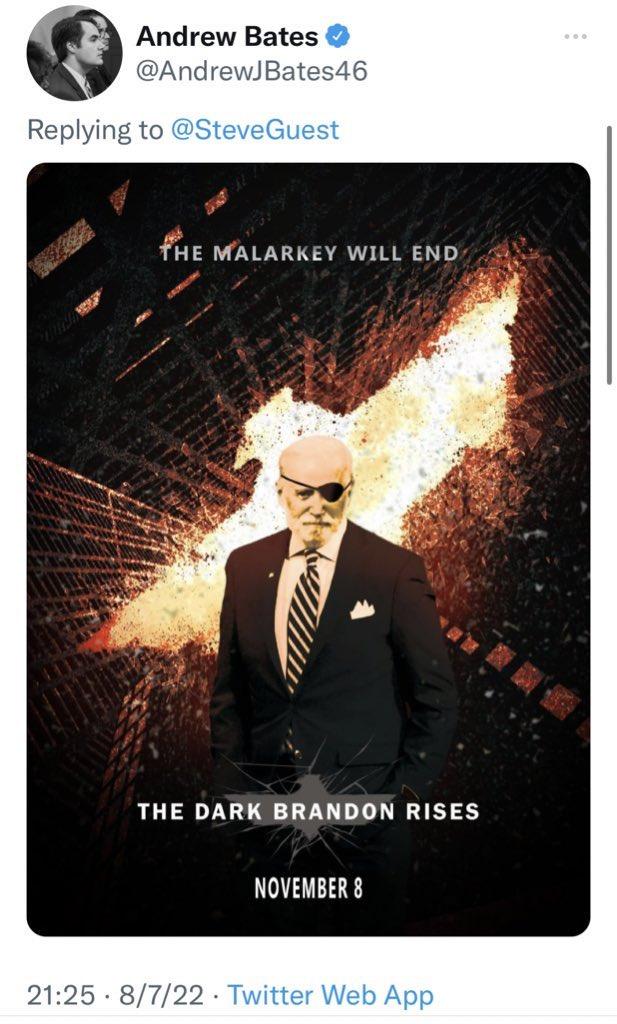 Dark Brandon has now faced cultural appropriation and exploitation by the ruling class… or something. The meme has been adopted by the left and not just run-of-the-mill internet trolls, but the people who have their salaries paid for by the American taxpayers. Dark Brandon was tweeted by Rob Flaherty, the White House Director of Digital Strategy, Andrew Bates, the Deputy Press Secretary, and the US Senator from CT, Chris Murphy.

Natalie Dagenhardt is an American conservative writer who writes for  Right Journalism! Natalie has described herself as a polemicist who likes to "stir up the pot," and does not "pretend to be impartial or balanced, as broadcasters do," drawing criticism from the left, and sometimes from the right. As a passionate journalist, she works relentlessly to uncover the corruption happening in Washington. She is a "constitutional conservative".