Massive Migrant Caravan Overruns the Mexican Police And It's Heading For The Open US Border – They Carry "Joe Biden Is For All" Banners And Walk Over The U.S. Flag (Video)
A migrant caravan travelling from Mexico overran a roadblock set up by police as they made their way to the United States.
The huge crowd of people gathered in Tapachula, near the Mexico-Guatemala border, and reportedly includes thousands of migrants fleeing Haiti, Venezuela, Cuba and other Latin American countries.
Violent clashes have taken place between Mexican police and those journeying north, with footage shared online showing the caravan making its way through the streets.
Video:
NOW – Large migrant caravan has left Tapachula, Mexico for the US.

The migrants, mostly from Central America, carry banners that read such as "We come in peace" and "Joe Biden is for everyone" (Politico MX)

disclosetv pic.twitter.com/iYZLq7BJFq

— 💫Queen of Seventeen 1️⃣7️⃣🥃❤️🇺🇲✝️ (@AreYouAwaQe) October 23, 2021
Despite the Mexican government's efforts to prevent the caravan from leaving Tapachula, Disclose.tv reports the caravan has now left the area and is heading for the United States.
The caravan met a large gathering of police officers holding shields and forming a roadblock on its journey, however, the determined migrants pushed through the officers and managed to break through the roadblock to continue their journey.
Video:
UPDATE – The migrant caravan has just overrun a roadblock set up by forces of the Mexican Instituto Nacional de Migración.pic.twitter.com/tM9CoA6xLc

— Disclose.tv (@disclosetv) October 23, 2021
The migrants are carrying a "Joe Biden is for all" sign.
Photo below:

The migrants were also filmed stepping on the US flag they are carrying.
Video from this morning:
They are now heading for our open border!
The number of apprehensions of undocumented migrants crossing into the US from the southern border hit an all-time high in the fiscal year 2021 after passing 1.7 million, according to Customs and Border Protection data obtained by NBC News.
OPINION: This article contains commentary which reflects the author's opinion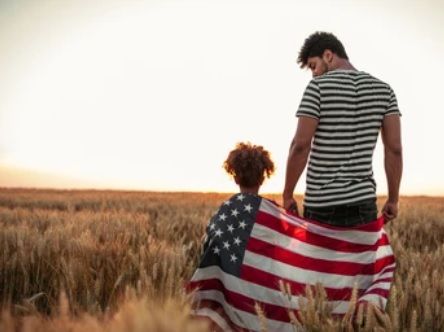 Mark Van der Veen offers some of the most analytical and insightful writings on politics. He regularly opines on the motives and political calculations of politicians and candidates, and whether or not their strategy will work. Van der Veen offers a contrast to many on this list by sticking mainly to a fact-based style of writing that is generally combative with opposing ideologies.