Bodycam Footage: Pregnant Librarian Tries To Kill Biker With Her Car, Then Tries To Shoot Him At Her House, She And Her Baby Ends Up Dead
In what is purportedly the culmination of a horrific alleged road-rage, hit-and run incident, a pregnant Florida librarian was shot and killed in her front yard by another motorist.
According to Orange County, Fla. police, Sara Nicole Morales, 35, was allegedly the aggressor in the still-under-investigation encounter on Saturday evening, November 20, that started when she allegedly hit a motorcycle operated by Andrew Derr with her blue Kia in a minor fender-bender or the equivalent.
Cops claim that Morales "intentionally" hit the biker.
Video:

New body camera video shows the intense moments after a Volusia County librarian was killed, investigators have identified the victim as the aggressor.
Sara Nicole Morales, 35, was shot outside her house after deputies said she drove home to get a gun following some sort of altercation with a motorcyclist.
The new video show deputies telling the man who reportedly pulled the trigger to stay on the ground. He complies with their orders.
"Please don't shoot me!" the man says to the deputies. "That girl tried to kill me. She pointed a gun at me."
The man, who identified himself as Andrew, said there were other people armed with guns too.
"I'm so sorry," he said.
The deputies then put handcuffs on the man in the video.
Video below:

According to Orange City police officers, Morales was involved in an incident with the motorcyclist on N. Volusia Avenue just after 5 p.m. on Saturday.
He separately told Fox 35 that he feels terrible about what happened, but believes he had no other choice.
"Detectives say they are still investigating, but they are treating this as a case of self defense. Neither Morales, nor the motorcyclist, have any previous local criminal history. Sara Morales worked for Volusia County as a library assistant," NBC Orlando affiliate WESH noted.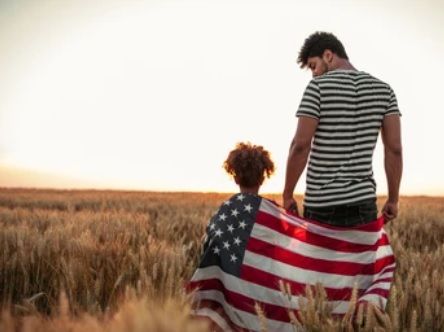 Mark Van der Veen offers some of the most analytical and insightful writings on politics. He regularly opines on the motives and political calculations of politicians and candidates, and whether or not their strategy will work. Van der Veen offers a contrast to many on this list by sticking mainly to a fact-based style of writing that is generally combative with opposing ideologies.