Biden Pulls Down His Mask To Shout Out At Someone In The Crowd At The 9/11 Ceremony – Leaves Before The Ceremony Ended ( Photo & Video)
Three presidents and their wives stood somberly side by side at the National September 11 Memorial, sharing a moment of silence to mark the anniversary of the nation's worst terror attack with a display of unity.
President Joe Biden and former Presidents Barack Obama and Bill Clinton all gathered at the site where the World Trade Center towers fell two decades ago.
This was supposed to show the "unity" of our country on the anniversary of the biggest terror attack in modern history!
But once again the above-mentioned former Presidents proved to the American public that they do not care about our country or its legacy, and they did it on one of the saddest days in our proud history!
A live video caught The Clintons and The Bidens' leaving the ceremony before the ceremony ended!
Video below:
Midnight Rider
Look the dem0ns leaving early pic.twitter.com/SOgbqpHFY5

— 💫Queen of Seventeen 1️⃣7️⃣🥃❤️🇺🇲✝️ (@AreYouAwaQe) September 11, 2021
Another disgraceful moment came when Biden was caught on a photo as he pulls down his masks and shouts to someone during the sacred ceremony!
Image below:
The way Obama is looking at him, says to me that it may have been an "inappropriate" moment.
He also decided to cross his arms while the ceremony was ongoing probably because he got bored again:
Unlike Biden Donald Trump has marked the beginning of the 20th anniversary of 9/11 by tearing into Joe Biden over his Afghanistan withdrawal and telling his supporters 'do not fear, America will be made great again'.
Trump released a video message Saturday morning speaking only briefly about the terrorist attacks that killed almost 3,000 Americans on September 11 2001 – instead slamming his successor for his 'bad planning' and 'incredible weakness' in pulling troops out of Afghanistan.
The former president, who will not attend any of the official 9/11 memorial ceremonies, said the US 'will struggle to recover from the embarrassment this incompetence has caused.'
'We will live on, but sadly, our country will be wounded for a long period of time, we will struggle to recover from the embarrassment this incompetence has caused,' he said.
'Do not fear, however, America will be made great again.'
Video below:
"To the great people of our Country this is a very sad day."

"Do not fear, however. America will be made great again."#NeverForget #911Memorial #September11 pic.twitter.com/uwXRmSYUwK

— 🧢מאק (@beingrealmac) September 11, 2021
Its release comes after Trump said he will visit Ground Zero Saturday to mark the 20th anniversary – but only after Biden leaves.
OPINION: This article contains commentary which reflects the author's opinion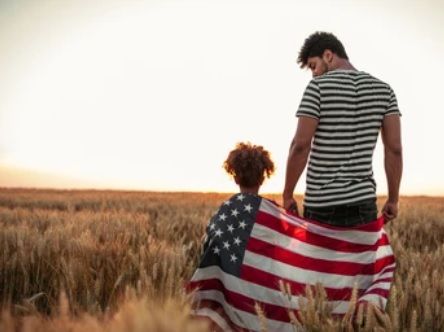 Mark Van der Veen offers some of the most analytical and insightful writings on politics. He regularly opines on the motives and political calculations of politicians and candidates, and whether or not their strategy will work. Van der Veen offers a contrast to many on this list by sticking mainly to a fact-based style of writing that is generally combative with opposing ideologies.