Biden Caught On Video Trashing Lightfoot: "You Can Travel To Chicago In Two Hours, Instead Of Four And A Half — I Don't Know Why You'd Go To Chicago, But…
In a trip to the swingiest congressional district in the swing state of Wisconsin, President Joe Biden detailed a bipartisan deal on infrastructure, focusing on how it would help families and workers across Wisconsin and the country.
Speaking from the municipal transit utility in La Crosse, Biden discussed the ways the infrastructure deal will help Wisconsinites with some of the state's most pressing problems.
Biden said the deal will include the removal of harmful "forever chemicals" known as PFAS from waterways — a problem that drove the state to provide free bottled water to residents of nearby French Island. He also said the deal includes money to replace lead service lines in cities such as Milwaukee and to bring broadband internet to the many rural residents who still don't have adequate access.
At one moment even Biden had to admit that the DEmlocrat controlled Chicago is a total disaster, during his remarks he said:
Studies show that if you can get to your destination in the same amount of time or less on rail than you can by car, people will take rail. And, Gov, you know this better than anybody. Imagine if you could get from Chicago — from La Crosse to Chicago in two hours, instead of four and a half. That's what this will allow us to build the capacity to do.

And besides, it will not only make your travel easier, not — I don't know why you'd go to Chicago, but — you know, all kidding aside — it would reduce the largest source of pollution in America: vehicle travel.
Video below:
— Tony (@mrtdogg_1) June 30, 2021
According to data, more than 300 people have been shot and killed in Chicago this year. More than 1,500 have been shot and wounded.
Earlier this week, President Joe Biden promised to help Chicago and other big cities that have been hit hard by an increase in deadly gun violence. He said the Department of Justice will create a new strike force to help local police stem the flow of illegal firearms.
2021 is so far Chicago's deadliest year in more than a decade.
Just this past weekend, the world watched in horror as a video out of Humboldt Park showed two people in a minor car accident suddenly swarmed and shot, execution-style.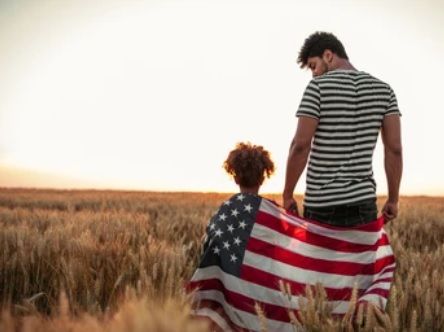 Mark Van der Veen offers some of the most analytical and insightful writings on politics. He regularly opines on the motives and political calculations of politicians and candidates, and whether or not their strategy will work. Van der Veen offers a contrast to many on this list by sticking mainly to a fact-based style of writing that is generally combative with opposing ideologies.