Video: Pelosi Goes On CNN And Tries To Implicate That God's Will, Will Be Done By Pushing The Dems To Victory – Ends Up Looking Like A Drunken Hag
CNN anchor Dana Bash interviewed House Speaker Nancy Pelosi (D-CA) and asked her if she believes the attack on her husband, Paul Pelosi, affected voter turnout and what she thinks as Rep. Kevin McCarthy (R-CA) as House Speaker if Republicans win the majority in Congress.
Pelosi tried to invoke God into the conversation even do she isn't a devoted Catholic and her family has ties with he communis Party of America.
That means her whole family was just a bunch of Atheists!
NANCY PELOSI: "You don't pray for a victory, but you pray that God's will will be done and on that Sunday, that's what we pray on this Sunday."
Video below:
She tries to justify her ruthless life by bringing God into the discussion. She is not a Catholic. Period.
Look at her face she looks like a drunken hag after finishing at the bar:
It wasn't God's will it was the Dems doing what they did in the last two elections!
I was perusing one of my favorite political Blogs, American Thinker, and I saw the perfect article, that talked about how we got snookered by ballot harvesting and mail-in ballots yet again…
Fletch Daniels over at American Thinker wrote an amazing piece on this topic:
Surveying the wreckage of the disappointing Republican midterms, voters were left scratching their heads, trying to figure out what went wrong. With the fundamentals being as bad as they were this year, Republicans underperformed expectations, and it was fairly obvious that they would experience no red wave by early in the evening on Election Night.

While I've seen plenty of postmortems already, the single biggest issue that wrecked the wave was mail-in voting combined with ballot-harvesting, which all but eliminated Republican hopes in states where Democrats control the voting rules. This is why Senate polls were so wrong in these states.

The two states where the impact was most obvious were Pennsylvania and Michigan, but it snuffed out real Republican chances all over the map in states where the Democrats control voting laws. Pennsylvania literally elected a dead man, and I'm not even talking about the pro-crime radical with such severe brain damage that he can't form a coherent sentence.

With two of our kids having gone to college in Michigan, we spend a fair amount of time visiting there. As near as I can tell, the only Michigan residents who actually like Gretchen Whitmer are in her immediate family. And yet she easily beat an impressive Republican candidate. In a fair election, Tudor Dixon wins that race easily. But that's the point. These aren't fair elections. They are rigged. And even great candidates taking on miserable ones go down in flames. The lone bright spot out of Michigan was John James winning Michigan-10.

James Carville said his party would have lost 57 seats but was saved by Donald Trump. Nonsense. They were saved by mass mail-in voting and ballot-harvesting. That is the fundamental difference between today and 2010, when Republicans won 63 seats during Obama's first midterm.

The other narrative that is being tossed around is that Republicans had poor candidates. Again, this is to be expected, since many people are using the election to attack former President Trump. But it's a foolish take. You will never have perfect candidates in every race. But, across the board, Republican candidates were far superior to those the Democrats put up, with only a couple of exceptions.

I'm even skeptical of the claim I'm seeing bandied about that David McCormick would have won the Senate seat in Pennsylvania. Perhaps. But, considering that there were enough ballots flooding the zone to elect the worst candidate in recent memory, I doubt it. The Democrats built a ballot-collecting machine in Pennsylvania that spit out a radical ogre who can't articulate a single intelligent thought.

[…]

Republicans used to joke about needing to win above the margin of fraud, which was generally accepted to be relatively small. But now that Democrats can flood the zone with ballots that they can collect over the course of weeks, that is now far too steep a hill to climb in all but the reddest areas. Every ballot they send out is easy to convert into a vote.

It has taken states off the competitive map. Democrat officials mail out massive numbers of ballots to people who would never bother to vote, and their operatives collect those ballots and run up the score. It effectively eliminates the concept of the low-propensity voter, since operatives see to it that all the ballots are requested and rounded up.
(This post may contain disputed claims. We make no assertions as to the validity of the information presented by our Opinion Columnist. This is an opinion article, and this post should be treated as such. Enjoy.)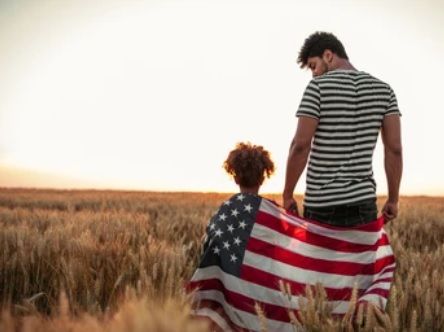 Mark Van der Veen offers some of the most analytical and insightful writings on politics. He regularly opines on the motives and political calculations of politicians and candidates, and whether or not their strategy will work. Van der Veen offers a contrast to many on this list by sticking mainly to a fact-based style of writing that is generally combative with opposing ideologies.