Video: Fetterman Confronted by A Leftist Professor Calling for Ceasefire With Hamas – The Security Reaction Shows The Real Picture About The Dems
Sen. John Fetterman (D-PA) isn't going along with the Squad and some of the radical left crowd when it comes to calling for ceasefire ibetween Israel and Hamas. Although he didn't name the Squad, he's called out "members of Congress" who were rushing to blame Israel for the hospital explosion, saying who would trust the word of a group that just massacred Israeli civilians?
Fetterman's staff also blasted ceasefire activists who showed up at Fetterman's office in Philadelphia after the activists claimed they were expelled from the office.
Fetterman has made his position on the ceasefire question clear.
"Now is not the time to talk about a ceasefire. We must support Israel in their efforts to eliminate the Hamas terrorists who slaughtered innocent men, women, and children. Hamas does not want peace, they want to destroy Israel. We can talk about a ceasefire after Hamas is neutralized."
But that hasn't stopped folks trying to lean on Fetterman to flip to the ceasefire side.
A leftist professor Dan Kovalik posted a video of himself aggressively confronting Sen. John Fetterman (D-PA) at a fundraiser at a suburban Pittsburgh bar over his support for Israel and then getting tossed out of the bar by a bouncer after getting in Fetterman's face. Fetterman has been supportive of Israel since the October 7 massacre by Palestinians from Hamas-controlled Gaza and opposes a ceasefire.
Kovalik struggles to hold his ground but gets bull-rushed out the door and onto the sidewalk by the beefy bouncer (who not surprisingly is built and dressed like Fetterman in athletic shorts and hoodie.)
Video below:
This is what the Democratic party is doing for years they only use people to get more votes and throw them away like garbage when they don't have a use of them!
The split in the Democratic Party between it's traditional supporters of Israel and it's growing pro-Hamas wing is flaring up one year from the November 2024 elections. Democrats are in a bind and appear poised to hemorrhage supporters regardless of how they try to thread the needle on the Hamas-Israel war.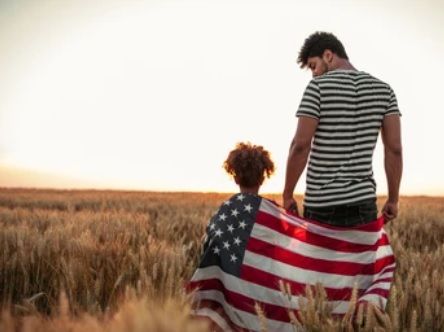 Mark Van der Veen offers some of the most analytical and insightful writings on politics. He regularly opines on the motives and political calculations of politicians and candidates, and whether or not their strategy will work. Van der Veen offers a contrast to many on this list by sticking mainly to a fact-based style of writing that is generally combative with opposing ideologies.