Video: Short Stairs Biden Salutes Secret Service Members, but the Main Question Is: What Happened to the Secret Service Requirements?
President Joe Biden wants to show the world at the Group of 20 summit in India and during a stop in Vietnam that the United States and its like-minded allies are better economic and security partners than China.
White House officials said Biden, who departed Thursday evening for New Delhi, will use the annual G20 gathering as an opportunity for the U.S. to highlight a proposition for developing and middle-income countries that would increase the lending power of the World Bank and International Monetary Fund by some $200 billion.
That is an attempt to offer a significant, albeit smaller, alternative to China's massive Belt and Road infrastructure initiative, which the U.S. views as a Trojan horse for China-led regional development and military expansion. Chinese President Xi Jinping plans to skip the summit, where Premier Li Qiang will represent the country.
However, before leaving for the summit Biden again was lost and people asked if the USA should send another person to represent us there also.
It's one of the iconic images of the American presidency: the commander in chief, standing and waving to the cameras from the top of the stairs leading into Air Force One.
But recently, President Biden has been avoiding climbing up the sometimes-wobbly 18-foot staircase that is trucked over to the plane's upper door. More often than not, he is using a much shorter and sturdier set of stairs that fold out from the belly of the plane.
Biden, 80, has stumbled on the tall stairs more than once. The short stairs have the distinct advantage of moving most of Biden's ascent into Air Force One out of public view. But for those who have noticed the shift, it also draws attention to one of Biden's greatest political liabilities as he seeks reelection: his age.
Before his trip to Vietnam he grabbed a female officer and tried to salute the Secret Service.
Check out that sick excuse for a salute .. and he can't help groping the lady officer…
Video below:

Also can someone explain to the American people about the requirements to get into the Secret Service:
According to the FBI's website, there is no specific height requirement to become an FBI agent. However, there are certain physical fitness requirements that must be met in order to successfully complete the training process. These include being able to pass a physical fitness test that includes a 1.5 mile run, a 300 meter sprint, and an obstacle course. Additionally, candidates must be able to pass a medical examination and meet the FBI's vision and hearing requirements.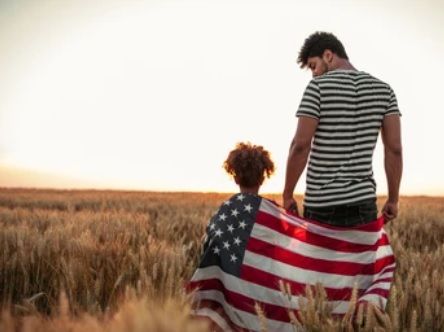 Mark Van der Veen offers some of the most analytical and insightful writings on politics. He regularly opines on the motives and political calculations of politicians and candidates, and whether or not their strategy will work. Van der Veen offers a contrast to many on this list by sticking mainly to a fact-based style of writing that is generally combative with opposing ideologies.