Video: Nancy Pelosi Tries To Sing The So-Called Black National Anthem – She Is Looking At Everyone Else To See What Word Comes Next And Hides Her Mouth
When the House of Representatives voted overwhelmingly on Wednesday to make Juneteenth a federal holiday, a day after the Senate rushed the measure through unanimously, 14 House members, all Republicans, voted against the proposal.
President Biden signed the measure into law on Thursday afternoon.
In anticipation of President Joe Biden signing a law that made Juneteenth a federal holiday, House Speaker Nancy Pelosi participated in an awkward singing of "Lift Every Voice And Sing," with Black politicians to celebrate the occasion on Thursday.
Video below:
Pelosi clearly knows less than half of the words lmfao. pic.twitter.com/I1Mv4arvOq

— L 🤺 (@LHatesYouALot) June 19, 2021
Here's the moment where she s looking at everyone else to see what word comes next:

She hides her mouth because she knows she doesn't know the words:

At the end of the song, Pelosi, positioned in front of the Congressional Black Caucus, led a round of applause for the unprecedented occasion.
Unfortunately, this isn't the first time the internet has called out the politician for pandering behavior.
In April, she drew the ire of many after she awkwardly thanked George Floyd for "sacrificing" himself in the name of justice at a news conference following the conviction of Derek Chauvin, Blavity previously reported.
"Thank you, George Floyd, for sacrificing your life for justice," the House Speaker said on Capitol Hill shortly after Chauvin's conviction. "For being there to call out to your mom, how heartbreaking was that. Your name will always be synonymous with justice."
Last year, the House Speaker joined Democratic colleagues in wearing kente cloths and kneeling to memorialize Black lives lost to police violence, according to USA Today. The group later introduced the George Floyd Justice in Policing Act of 2020, a measure that seeks to change the national scope of policing and stamp out violence against Black communities.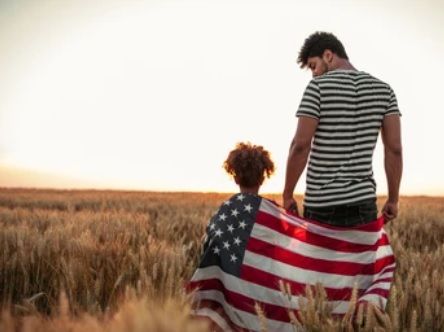 Mark Van der Veen offers some of the most analytical and insightful writings on politics. He regularly opines on the motives and political calculations of politicians and candidates, and whether or not their strategy will work. Van der Veen offers a contrast to many on this list by sticking mainly to a fact-based style of writing that is generally combative with opposing ideologies.