Video: Birthday Girl Kamala Finally Decided to Salute The Airmen While Boarding Air Force Two And It Was Another Awkward Moment
Back in March conservatives slammed Vice President Kamala Harris for not saluting the honor guard while boarding Air Force Two, breaking with a decades-old tradition.
Video below:
DISGRACEFUL: @VP Kamala Harris refuses to salute the honor guard at the steps of the aircraft. It is a clear demonstration of her dislike for those in uniform, both law-enforcement and military. pic.twitter.com/7QFHzamnt7

— Bernard B. Kerik (@BernardKerik) March 23, 2021
But the birthday girl Kamala finally decided to honor the airmen and gave them a salute or some sort of salute!
VP Kamala Harris came under fire after she took a jaunt to Nevada on Air Force Two to tout the administration's "Build Back Better" agenda and how it can help "tackle the climate crisis" — as critics point out the mixed messages between her words and actions.
In a video, Harris was seen exiting a large black SUV before walking towards Air Force Two on the tarmac in Los Angeles.
Video below:
Harris's predecessors, former Vice Presidents Mike Pence and Joe Biden, regularly saluted the honor guard, with the tradition originating during the Reagan administration.
"I know all the rules about not saluting in civilian clothes and so forth, and when you should or shouldn't," President Ronald Reagan said, according to the Florida Times-Union in the 1980s. "So, I said to the commandant, I said, 'Look, I know all the rules about saluting in civilian clothes and all, but if I am the commander in chief, there ought to be a regulation that would permit me to return a salute.' And I heard some words of wisdom. He said, 'I think if you did, no one would say anything.'"
However, there is no protocol for the vice president or president to salute military members outside of the presidential fleet.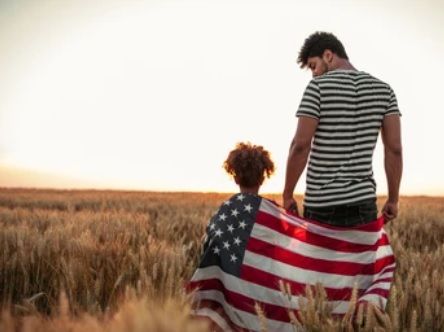 Mark Van der Veen offers some of the most analytical and insightful writings on politics. He regularly opines on the motives and political calculations of politicians and candidates, and whether or not their strategy will work. Van der Veen offers a contrast to many on this list by sticking mainly to a fact-based style of writing that is generally combative with opposing ideologies.