US Marine Who Pulled Baby Over Wall At Kabul Airport Is Under Investigation For Appearing At Trump Rally (Video)
No good deed goes unpunished. Not even saving a baby from likely abuse and possible death at the hands of the Taliban!
Four days ago the crowd at a "Save America" rally in central Georgia erupted as former President Donald Trump announced the Marine who pulled a baby over a Kabul airport wall in a heart-wrenching video would be welcomed to the stage Saturday night.
It's an image that went viral this summer as thousands of Afghans tried to flee the country when the Taliban took back control after U.S. troops exited the nation.
"We're all so honored to be joined by one of the Marines who bravely served in Kabul during the withdrawal and helped evacuate children," Trump said before introducing Hunter Ian Clark at the Georgia National Fairgrounds.
Clark said he is the man who was captured reaching amongst a sea of people in Kabul to grab an infant, pulling it over a barbed-wire lined wall.
Pentagon Press Secretary John F. Kirby told reporters at an Aug. 20 press briefing that the parents asked the Marines to look after the baby because the baby was ill.
"I am the guy who pulled the baby over the wall and it's definitely probably one of the greatest things I've ever done in my entire life," Clark said.
Trump said Clark went to school in Perry, Georgia where the rally was held.
"All the support from y'all, it really means a lot and I'm glad to be home now today. Thank you," he said.
Video from the rally:
Lance Cpl. Hunter Clark is reportedly under investigation by the US military for "partisan political activity."pic.twitter.com/wsCJzGjNtu

— Disclose.tv (@disclosetv) September 30, 2021
Video from the moment when the marine saved the baby's life:
The chaos & fear of people is a testament to the international community's role in AFG's downfall & their subsequent abandonment of Afghan people. The future for AFG has bn decided for its people without its people's vote & now they live at the mercy of a terrorist group. #Kabul pic.twitter.com/k4bevc2eHE

— Omar Haidari (@OmarHaidari1) August 19, 2021
The child was later taken to a Norwegian hospital at the airport, treated and returned to their father, according to Kirby. It was not clear what happened to the father and child after the episode.
But we do know that the left is trying to destroy this hero's life by punishing him for his appearance at the Trump rally.
Clark's command is looking into whether he violated the military's ban on active-duty troops engaging in partisan political activity.
"The 24th Marine Expeditionary Unit (MEU) has initiated a command investigation regarding LCpl Hunter Clark's attendance at the event last weekend to determine if any DoD policies were violated," said Capt. Kelton J Cochran, a spokesman for the 24th MEU. "Any details pertaining to this incident are not releasable while the investigation is being conducted."
Cochran did not specify what policies that Clark may have violated, but the Defense Department does not allow active-duty troops to "speak before a partisan political gathering, including any gathering that promotes a partisan political party, candidate, or cause."
What the hell kind of garbage is this?
He didn't say a word to promote Donald Trump. If Clark's presence was promoting anything, it was the military.
The same military that's now investigating him.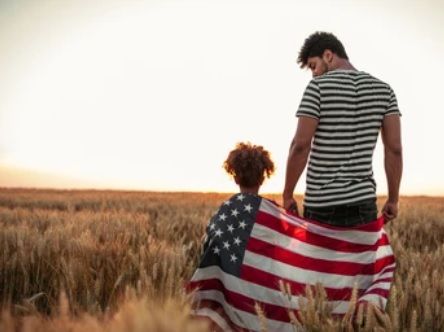 Mark Van der Veen offers some of the most analytical and insightful writings on politics. He regularly opines on the motives and political calculations of politicians and candidates, and whether or not their strategy will work. Van der Veen offers a contrast to many on this list by sticking mainly to a fact-based style of writing that is generally combative with opposing ideologies.