The Next Time Joe Biden Lectures You On Your Carbon Footprint Show Him This Video From London Which Angered Even His Own Supporters
Foreign heads of state and their partners attending the state funeral of Queen Elizabeth II have been asked to arrive in the UK on commercial flights and have been banned from using helicopters to move around the capital.
In addition, they have been told they will not be able to use their own official cars to attend the funeral, scheduled for Monday 19 September, but will instead be bussed to Westminster Abbey from a site in west London en masse, Politico reports.
Official documents obtained by the outlet circulated to embassies on Saturday also confirmed that only the heads of state and their partner from each country have been invited.
Major world leaders will not be forced to take a bus to the Queen's funeral on Monday, it has been revealed.
Joe Biden, Emmanuel Macron, and Japanese Emperor Naruhito are among those expected to be granted exemptions from the coach ride for 'security reasons'.
German president Frank-Walter Steinmeier, Italian president Sergio Matarella, Canada's Justin Trudeau, and Israel's Isaac Herzog may also be exempted.
However, the King asked the world leaders to keep their carbon footprint to a bare minimum!
Biden decided not to honor this.
With all that security he also decided to use his "privilege" to do something that regular people aren't allowed to, here's Biden's huge motorcade that angered even his own supporters.
Video below:
The Biden motorcade on it's way from Stansted Airport last night.
Do as we say, not do as we do!

Climate change! …what climate change? pic.twitter.com/9ToeVoNckC

— UK Justice Forum 🇬🇧 Latest Video News Updates! (@Justice_forum) September 18, 2022
Another photo of his motorcade also brought a lot of negative attention:
The reactions were not good and even his own supporters were angry:
Pay the emission charge like all of us maybe??? Or travel by bus or travel by train… the latter two being impractical for the most 'powerful' man in the world so pay the fee

— coski (@0xCoski23) September 18, 2022
— Paul Jonas (@goretechre) September 18, 2022
Our entire Royal Family don't require such an enormous entourage, what possible use could so many be to one man & his wife?

— Sara Catlow (@sara_catlow) September 18, 2022
Flown around the world in a giant aircraft carrier too pic.twitter.com/KZghm9a3Ru

— Dominic (@DominicR26) September 18, 2022
What the hell was that thing at 26-27s … did he bring his own (mini) firetruck!?!

— Chalfo (@EIgnoramis) September 18, 2022
All are equal but some are more equal than others

— Micah Don Arington (@arington_acemd) September 18, 2022
The hypocrisy is astounding!….will extinction rebellion be blocking his way???…

— Landon (@Landon1874) September 18, 2022

Biden is expected to arrive with a helicopter at the Queen's funeral!
The Post is told that the President will be guarded by hundreds of security agents, with 100 alone focused on safeguarding the helicopter, which is dubbed 'Marine One' when Biden is on board.
The official capacity of Westminster Abbey is 2,200 people, and it is expected to be full to the point that having more than one senior representative for each nation plus a spouse would be untenable.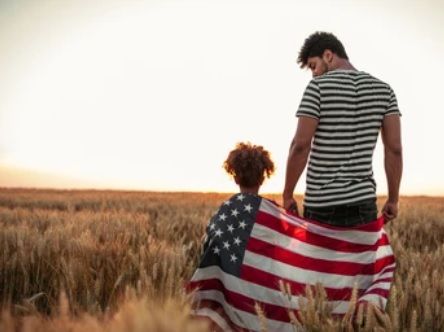 Mark Van der Veen offers some of the most analytical and insightful writings on politics. He regularly opines on the motives and political calculations of politicians and candidates, and whether or not their strategy will work. Van der Veen offers a contrast to many on this list by sticking mainly to a fact-based style of writing that is generally combative with opposing ideologies.