Photos & Video: Empty Shelves Joe Effect – Shelves Are Stripped Bare As Supply chain Crisis Hits Halloween
American consumers should expect to see higher prices and even some empty shelves during their holiday shopping this year, President Joe Biden's White House told Reuters on Tuesday.
The warning comes as the Biden administration works frantically to push back on skyrocketing inflation and strained supply chains across the country. Economists predicted earlier this year that the final months of 2021 would see total consumer prices rising 3.2% over 2020.
White House press secretary Jen Psaki and other administration officials have repeatedly insisted that the inflation is "transitory" and will normalize sometime in 2022. The White House has repeated the line numerous times since worries over the economy began to outpace COVID-19 in polls across the U.S.
But the reality is much worse!
As the Daily Mail reported Halloween is under threat from supply chain chaos as 'distraught' shoppers are already battling empty shelves and canceled orders weeks ahead of the festivities.
Costumes, decorations and candy remain held up in ports due to a shortage of truck drivers, warehouse space and bottlenecks in the network.
Customers are already venting their fury after having to forego Halloween last year due to the Covid pandemic, only to be faced with the prospect of another muted celebration this year due to supply issues.
Images below:

Video below:
#EmptyShelvesJoe is now trending:
#EmptyShelvesJoe just hit the number 1 trend nationwide amid Biden's supply chain crisis

— Jack Posobiec 🇺🇸 (@JackPosobiec) October 14, 2021
Halloween shoppers are being encouraged to shop for costumes and supplies early as stores struggle to maintain holiday stock due to disruptions in the supply chain.
Dozens of cargo ships anchored off the coasts of Los Angeles and New York face shocking wait times of up to four weeks and railyards and trucking routes are hopelessly clogged due to the lack of manpower to unload goods – with an expert warning that the government needs to intervene or face spiraling inflation and unemployment.
The backlog of billions of dollars of toys, clothing, electronics, vehicles, and furniture comes as the demand for consumer goods hit its highest point in history as consumers stay home instead of spending money on travel and entertainment.
Supply chains have lagged far behind consumer demand due to a multiple reasons, lack of manpower at American ports and the restrictions that came with the COVID-19 outbreak early last year. And lately mostly because of the Covid vaccine mandate which causes a labor shortage.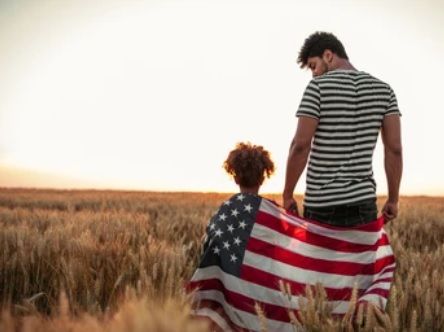 Mark Van der Veen offers some of the most analytical and insightful writings on politics. He regularly opines on the motives and political calculations of politicians and candidates, and whether or not their strategy will work. Van der Veen offers a contrast to many on this list by sticking mainly to a fact-based style of writing that is generally combative with opposing ideologies.