JUST IN: RSBN Has Been Suspended From YouTube Over Trump CPAC Speech – Search Results Show That Other Live Streams Of Trump's Speech Were Also Taken Down
The Right Side Broadcasting Network, which prides itself on its live-streaming of Donald Trump's rallies, once gave its guests free rein to talk about politics. Now, due to YouTube's recent crackdown on misinformation, the channel increasingly cuts them off.
"We do have to be super careful," RSBN's Liz Willis recently told Mike Lindell, the Trump-supporting MyPillow CEO, just as he was getting ready to talk about coronavirus vaccines. "I hate to do it, you know I love you, but due to YouTube's guidelines, we will get our whole platform shut down if you talk about vaccines."
It seems that even RSNB tried to cave into YouTube rules because they had another awkward moment last week as reporter Mike Nificent was interviewing attendees at the Conservative Political Action Conference when one woman asked him a question.
"You know how they said they changed the votes using a satellite?" she asked, apparently alluding to a delusional theory about the 2020 election.
"We can't go there," Nificent told her. "We'll lose our entire platform. We have to play by the rules."
It seems that YouTube decide to remove them from their platform anyway.
RSBN has been suspended from YouTube for two weeks because of the Trump CPAC speech. Earlier, YouTube punished other media outlets like RT, Sputnik for streaming the speech, but not others from the mainstream media like "The Independent"
Update: YouTube removed the CPAC Trump speech and suspended us for two weeks. https://t.co/nyh2vCOHVJ

— RSBN 🇺🇸 (@RSBNetwork) March 4, 2021
A search of YouTube suggests that other live streams of Trump's speech were also taken down.
About a week ago, YouTube also removed a Newsmax video that included an interview with Trump, and around the same time, removed a video of an attorney testifying to the Ohio legislature, claiming it included COVID-19 misinformation.
The move against Right Side Broadcasting Network—which broadcast most of Trump's rallies during his 2016 campaign and while he was president—is certain to trigger even more criticism against Big Tech's censorship of dissenting viewpoints.
Trump himself offered a warning about the potentially unchecked power of Google, Facebook, Twitter, Amazon, and others in his speech, saying they should face punishment if they silence conservative voices.
"All of the election integrity measures in the world will mean nothing if we don't have free speech," Trump said. "If Republicans can be censored for speaking the truth and calling out corruption, we will not have democracy and we will only have left-wing tyranny."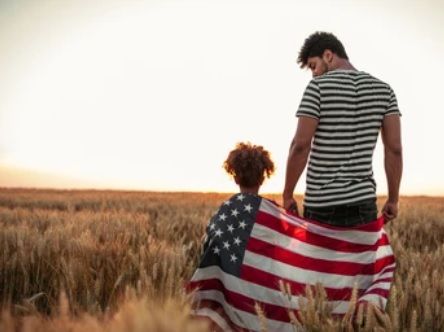 Mark Van der Veen offers some of the most analytical and insightful writings on politics. He regularly opines on the motives and political calculations of politicians and candidates, and whether or not their strategy will work. Van der Veen offers a contrast to many on this list by sticking mainly to a fact-based style of writing that is generally combative with opposing ideologies.