Biden Caught Checking His Watch At The Ceremony Welcoming Our Fallen Heroes (Video)
The mother of a Marine killed in the Kabul airport attack called President Joe Biden a 'dementia-ridden piece of crap' as the president meets with families of the 13 fallen service members on Sunday
'My son was one of the Marines that died yesterday,' Kathy McCollum said in a radio interview on Friday of her 20-year-old late son Rylee.
'[He was] getting ready to come home from freaking Jordan to be with his wife to watch the birth of his son,' McCollum said. 'And that sackless, dementia-ridden piece of crap just sent my son to die.'
Maybe her comment was one of the reasons why Biden wasn't planning to attend the ceremony:
Nothing on Biden's schedule tomorrow about Dover AFB pic.twitter.com/u6WTGj4RUm

— Jack Posobiec 🇺🇸 (@JackPosobiec) August 29, 2021
After facing a huge backlash he decided to attend the dignified transfer ceremony at Dover Air Force Base but decided to meet the parents behind closed doors even if that wasn't his decision to make, it's the parents who should decide if they want to let the press attend!
In a carefully scripted ceremony which started at noon (16H00 GMT), a specially trained white-gloved crew removed the "transfer cases" carrying the remains from the military cargo plane that has returned them to US soil, as officials salute and aggrieved family members watch.
Meeting the remains of fallen service members at Dover is considered one of the most solemn duties of a US president.
Video below:
WATCH: Dignified Transfer at Dover Air Force Base for the heroes that lost their lives in the Terror Attack in Afghanistan. pic.twitter.com/ceG9UscGfA

— Benny (@bennyjohnson) August 29, 2021
But that's the video that we saw on the mainstream media.
What the mainstream media failed to show is the fact that Biden decided to check his watch at Dover Air Force Base while receiving our heroes at the most sacred moment while the coffins were removed from the plane!
Video and a screenshot from the moment below:
Did that POS just check his watch!?!! pic.twitter.com/YanMEPITK0

— Teresa 2.0 (@Thorsome4) August 29, 2021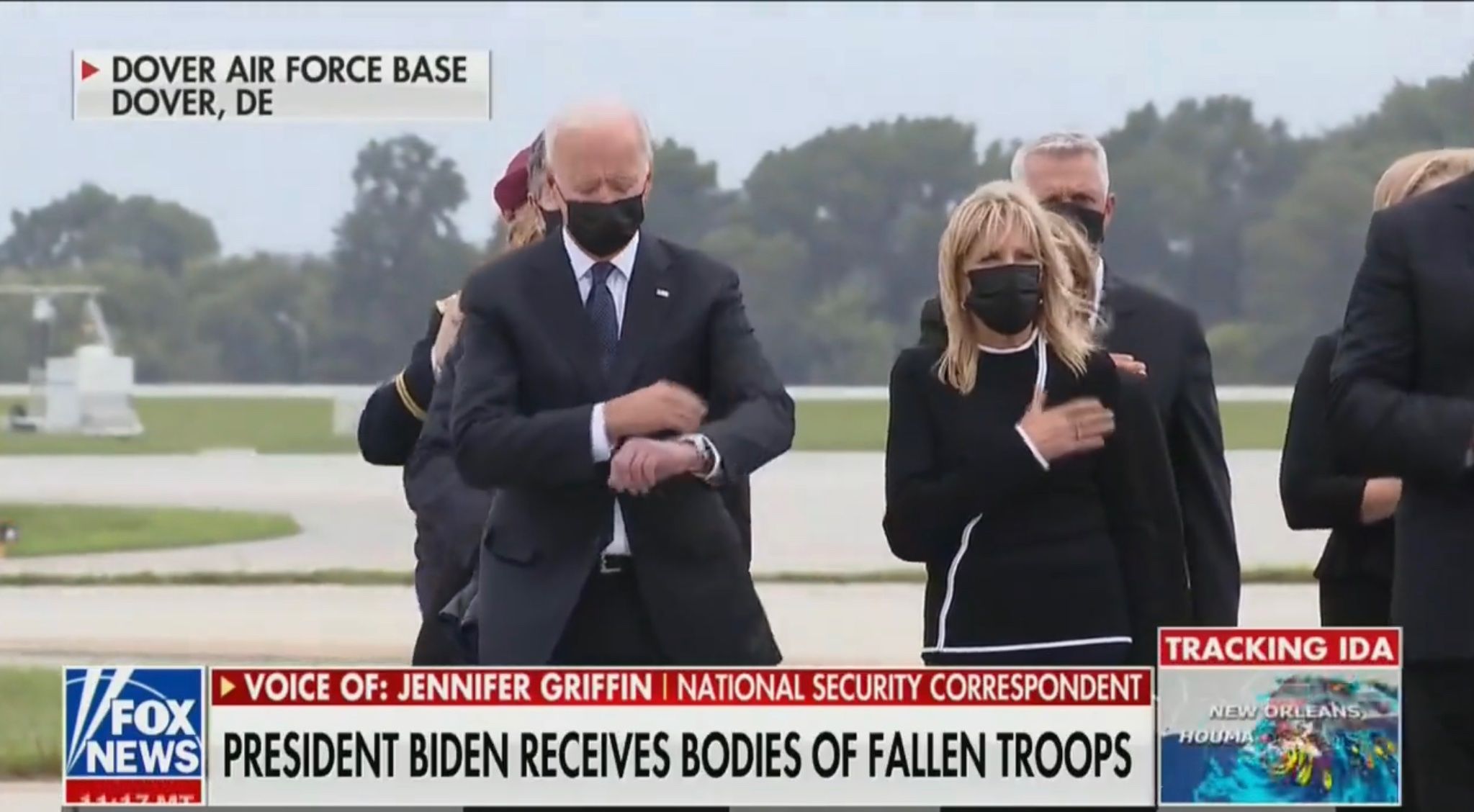 This is POTUS!!!

Natalie Dagenhardt is an American conservative writer who writes for  Right Journalism! Natalie has described herself as a polemicist who likes to "stir up the pot," and does not "pretend to be impartial or balanced, as broadcasters do," drawing criticism from the left, and sometimes from the right. As a passionate journalist, she works relentlessly to uncover the corruption happening in Washington. She is a "constitutional conservative".