Video: Internet Sleuth Found The Perfect Job For Kamala Harris After She Asked NASA If They Can Track Trees By Race In Pursuit Of Environmental Justice
Kamala Harris is a very special vice president don't you think? Special. And she asked a very special question, interrupting a NASA presentation to do it, on the issue of tree justice.
That's right, she wanted to know if NASA can use satellites to "track" how many trees there are on a neighborhood by neighborhood level, with those neighborhoods being apportioned by race, for the sake of environmental justice.
That's me typing it out long for you, the way she said it wasn't so words good.
Video below:
Kamala Harris interrupts a NASA presentation to ask if NASA "can measure trees" as part of "environmental justice." pic.twitter.com/POoArDzaGc

— Jake Schneider (@jacobkschneider) November 6, 2021
After her debacle and yet another gaffe Americans went online and reached hilariously, but what is even more important is that she was able to unite Americans once again as both left and right-wing Americans roasted her online:
Bless her heart.

— J Chris Mason (@jchrismason) November 6, 2021
Why would you ever need to know this, is the first good question. The second is: do you really need satellites to know this? Come on.
This guy has the perfect job for Kamala:

Rocket surgeon

— Jeff in Texas (@Oc1013) November 6, 2021
BBB is gonna pay people to walk around and count trees.

— Leon Square (@Ease_Private) November 6, 2021
Just give @elonmusk the keys to NASA at this point

— Azamat Bagatov (@ARealBagatov) November 6, 2021
— Anna Lo Iacono (@Loianna22) November 6, 2021
— 🇺🇸46th President Dr. Millionaire Gymmie🇺🇸 (@millionairegym) November 6, 2021
"Mrs. Harris, here's the bullet-point chart. And remember: keep pushing the 'environmental justice' angle. Got it? Good."

And this is the result.

— Emily Bordeaux ✊🏿✊🏾✊🏽 (@EmilioBordeaux) November 6, 2021
I know this link is purple on her phone pic.twitter.com/qT8KbhlnDv

— Kurt the self taught gynecologist (@kurtkurtkurtkoe) November 6, 2021
China launched a hypersonic missile.

— John (@john_turnipseed) November 6, 2021
— Neil Schinken (@Deb_s1984) November 6, 2021
— meta altered ego (@AlteraEgora) November 6, 2021
This is like a scene from The Office or Veep. You see the camera shake as she begins her nonsensical inquiry, followed by an awkward zoom-in. Slumped over, Harris begins to ask the presumed scientist she's speaking with if he can sort trees by race in order to measure "tree equity" so as to promote "environmental justice."
Regardless, putting the absurdity of the entire spectacle aside, the word "justice" has been rendered completely meaningless at this point by the left. That's a shame because justice is actually a good and necessary thing to pursue in the world. Yet, when it becomes nothing more than a stand-in for whatever random far-left policy a Democrat wants to push, the term loses its moral standing.
The idea of "tree equity" is asinine. If we are talking on a global scale, the continent of Africa naturally has fewer trees than the Americas. That is not due to racism or a lack of equity. It's due to the climate. But if we are talking about the United States, Harris' question makes even less sense. Black Americans disproportionately live in urban environments. By being definitionally urban, those areas lack the same tree cover as rural areas. That also is not due to racism or a lack of equity, and there are obviously pros and cons to living in different areas of the country.
OPINION: This article contains commentary which reflects the author's opinion
Reminder: The purpose of the articles that you will find on this website, are to EDUCATE, not to disinform or grow hate and anger!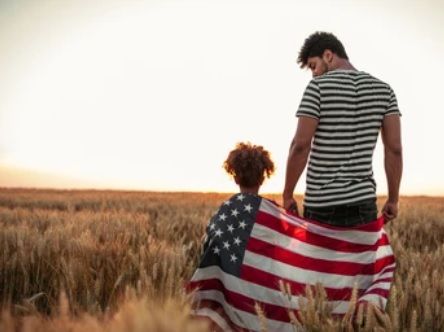 Mark Van der Veen offers some of the most analytical and insightful writings on politics. He regularly opines on the motives and political calculations of politicians and candidates, and whether or not their strategy will work. Van der Veen offers a contrast to many on this list by sticking mainly to a fact-based style of writing that is generally combative with opposing ideologies.