Video: Hamas Opened Fire On Palestinians Who Are Trying To Evacuate – Here's What The MSM Reported
he White House said on Thursday that Israel agreed to pause military operations in parts of north Gaza for four hours a day, but there was no sign of a let-up in the fighting that has killed thousands and laid waste to the seaside enclave.
The pauses, which would allow people to flee along two humanitarian corridors and could be used for the release of hostages, were significant first steps, White House national security spokesperson John Kirby said.
Many escaped with just the clothes on their back. One woman, covered head-to-toe in a black veil and robe, cradled a toddler and clutched a black purse. A man walked alongside a covered donkey cart that transported his family. It was piled high with mattresses.
But the footage that emerged a few minutes ago shows that Hamas is targeting Palestinians who are trying to leave the northern zone and go south.
Video below:
Horrific pictures coming out of Gaza right now.

Civilians are trying to leave the northern zone and go south.

However, Hamas opened fire on them to stop their attempt. They want human shields to protect them.
pic.twitter.com/QX3foriyWv

— Visegrád 24 (@visegrad24) November 10, 2023
They need human shields to protect them.
In the north of the Gaza Strip, Israeli ground forces backed by airstrikes have encircled Gaza City, the base of Hamas ' power, since the weekend. They cut the strip in half and sought to drive Palestinians from northern Gaza as troops advanced.
Here's what the AP reported:
What was once Gaza's busiest thoroughfare has become a terrifying escape route for Palestinian civilians fleeing combat on foot or on donkey carts. On their way south, those running for their lives said they raised their hands and waved white flags to move past Israeli tanks along the four-lane highway.

Some reported Israeli soldiers firing at them and said they passed bodies strewn alongside the road.
OPINION: This article contains commentary which reflects the author's opinion
Reminder: The purpose of the articles that you will find on this website, are to EDUCATE, not to disinform or grow hate and anger!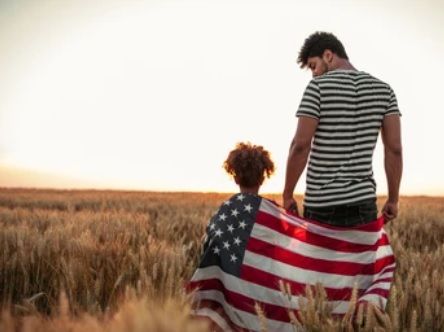 Mark Van der Veen offers some of the most analytical and insightful writings on politics. He regularly opines on the motives and political calculations of politicians and candidates, and whether or not their strategy will work. Van der Veen offers a contrast to many on this list by sticking mainly to a fact-based style of writing that is generally combative with opposing ideologies.