Video: DeSantis Goes On Stage in Iowa, and People Start Banging Cowbells Shortly After He Suffers His Biggest Political Embarrassment So Far
The 2024 Republican presidential race is playing out in close quarters Saturday at the Iowa State Fairgrounds, as former President Donald Trump and his top-polling rival, Florida Gov. Ron DeSantis, join the crowd of thousands of potential caucus-goers.
The Iowa State Fair in Des Moines has been a quintessential stop on the presidential campaign trail since the Democratic Party moved the state to the first position in its nominating calendar in 1972 and Republicans made the same shift four years later.
Trump and DeSantis are both skipping one state fair mainstay – making their pitches to crowds gathered around The Des Moines Register's Political Soapbox. But DeSantis, like most other GOP contenders, is participating in a one-on-one "fair-side chat" with Republican Gov. Kim Reynolds. Trump, who has repeatedly questioned Reynolds' neutrality in the race and accused the popular governor of cozying up to DeSantis, is skipping the chat with her.
Before his speech, DeSantis got a reminder of what GOP voters think about him!
Less than an hour before Ron DeSantis is scheduled to speak at the Iowa State Fair, a plane flies overhead with a banner that reads "Be Likable, Ron!"pic.twitter.com/zkbDSwBZIo

— Citizen Free Press (@CitizenFreePres) August 12, 2023
DeSantis then went on stage and people started banging cowbells and blowing whistles.
Video below:
DeSantis is on stage and people are banging cowbells and blowing whistles in the crowd. pic.twitter.com/qHt8uhU8Kb

— Citizen Free Press (@CitizenFreePres) August 12, 2023
The crowd didn't like them at all:
Protestors are disrupting Ron DeSantis Fair-Side chat with Reynolds.

Reynolds got on the mic to let them know this isn't "Iowa Nice." pic.twitter.com/qNPTtZaczi

— Ty Rushing (@Rushthewriter) August 12, 2023
There was a fight during his speech:
Getting rowdy at the DeSantis chat with Kim Reynolds. This happened a few minutes ago, another skirmish happened and law enforcement removed some to the back of the event pic.twitter.com/MCPFFVGfkk

— Iowa Starting Line (@IAStartingLine) August 12, 2023
He then tried flipping burgers but it didn't help:
Crowd is chanting "We love Trump" as DeSantis flips burgers at the Iowa State Fair.pic.twitter.com/0ZaoiqyxXN

— Citizen Free Press (@CitizenFreePres) August 12, 2023
DeSantis also suffered his biggest political embarrassment today shortly after his Burger fiasco:

A rough scene for DeSantis.
Walks through a sea of people chanting "We Love Trump."
Here's how Trump's plane was welcomed in Iowa:
Iowans excited at the sight of Trump Force Onepic.twitter.com/Akw80hPFRu

— Citizen Free Press (@CitizenFreePres) August 12, 2023
Trump Force One flies overhead as DeSantis speaks.

"That's his f–king plane!" shouted one person in excitement.pic.twitter.com/ZsW5Nb282S

— Citizen Free Press (@CitizenFreePres) August 12, 2023

(This post may contain disputed claims. We make no assertions as to the validity of the information presented by our Opinion Columnist. This is an opinion article, and this post should be treated as such. Enjoy.)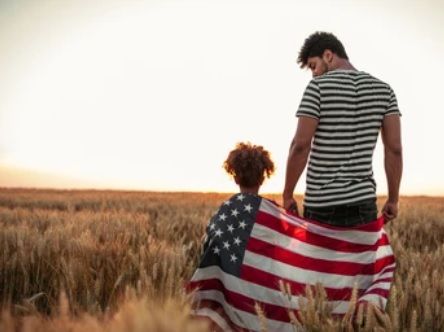 Mark Van der Veen offers some of the most analytical and insightful writings on politics. He regularly opines on the motives and political calculations of politicians and candidates, and whether or not their strategy will work. Van der Veen offers a contrast to many on this list by sticking mainly to a fact-based style of writing that is generally combative with opposing ideologies.