Video: Biden Is Arresting President Trump Because He Can't Beat Him – Here He Is Admitting He Is Going To Do It
Former President Trump has pleaded not guilty to historic charges of mishandling sensitive files at a federal court in Miami, Florida.
Mr. Trump is the first US president – current or former – to be hit with a federal criminal indictment.
Arms crossed, in a dark suit and red tie, he sat in stone-faced silence for his second court appearance this year.
The MAGA leader later traveled to his golf club in Bedminster, New Jersey, where he addressed supporters.
Against a backdrop of American flags, Mr. Trump, who is the frontrunner for the 2024 Republican presidential nomination, struck a defiant tone and told the assembled crowd he had "every right" to hold the classified documents, but "hadn't had a chance to go through all the boxes".
He said he followed the law and listed a series of claims against President Joe Biden and his former rival Hillary Clinton.
Earlier in the day before leaving Miami, Mr. Trump, on his social media platform Truth Social, thanked the city for "such a warm welcome on such a sad day for our country".
But was this thing already planned by Biden and his administration as Trump claims?
During a press conference last November, Joe Biden actually promised he would do exactly that when asked about Trump's possible return to the White House.
"So the entire genesis of that G7 conversation was tied to your predecessor, who is about to launch another campaign. So how do you reassure them, if that is the reason for their questioning, that the former president will not return or that his political movement, which is still very strong, will not… once again take power in the United States?" a reporter asked Biden.
"Well, we just have to demonstrate that he will not take power by — if we — if he does run," Biden said. "I'm making sure he, under legitimate efforts of our Constitution, does not become the next president again."
Video below:

You don't need to be a Trump supporter to view this as a thinly veiled threat to use legal maneuvers to prevent Trump from even having a chance to run. After Tuesday, Trump will have endured two arraignments since Biden made these claims, pointing more and more towards what many perceive as election interference.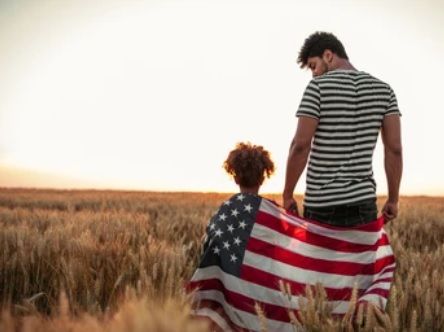 Mark Van der Veen offers some of the most analytical and insightful writings on politics. He regularly opines on the motives and political calculations of politicians and candidates, and whether or not their strategy will work. Van der Veen offers a contrast to many on this list by sticking mainly to a fact-based style of writing that is generally combative with opposing ideologies.