Video: 60 Minutes' Asked Biden Why He's Running Again – His Answer Seems To Confuse Even The Anchor
Joe Biden on Thursday sat down for a one-on-one softball interview with '60 Minutes' host Scott Pelley which aired Sunday evening.
Most of Scott Pelley's questions revolved around the Hamas ambush terror attack on Israel. At least 29 Americans have been killed by Hamas and at least a dozen have been taken hostage.
At one point Scott Pelley asked Biden if he was really serious about running for reelection. He asked Biden this after he acknowledged he is the oldest US president.
"As we spoke to the president, his secretary of state was in Israel, his secretary of defense was in a NATO meeting on Ukraine. America's oldest president seemed tired from directing all of this," Pelley said.
"Are you sure that you want to run again?" Pelley asked Biden.
Biden didn't even mention the American people.
"Yes, because I'm sure — look, when I ran I said the world is at an inflection point. The world's changing — Imagine if we were able to succeed in getting the Middle East put in place where we have normalization and relations. I think we can do that. Imagine what happens if we unite all of Europe and Putin is finally put down where he cannot cause the trouble he has been causing," Biden said.
Video below:

Biden seemed completely at sea throughout the interview, and so old.
Pelley asked if he could foresee U.S. troops involved in the Israeli war. Notice his answer: it wasn't "no."
BIDEN: "Israel has one of the finest fighting forces in the country" pic.twitter.com/fOLFX9fjrl

— RNC Research (@RNCResearch) October 15, 2023
It was "I don't think it's necessary" because "Israel has one of the finest fighting forces in the country." Um, Joe? Israel is its own country, it's not part of the U.S., what are you even saying here? In what country?
Pelley asks what was his message to "Hezbollah and its backer Iran." Biden's response wouldn't exactly send fear down any bad actor's back, and Pelley even had to finish his thought for him.
"What is your message to Hezbollah and its backer, Iran?"

BIDEN: "Don't don't don't don't"

"Don't……. come across the border?"

BIDEN: "That's right" pic.twitter.com/3SLT2cZben

— RNC Research (@RNCResearch) October 15, 2023
God help us all with POTUS like this one. And he wants four more years of the same!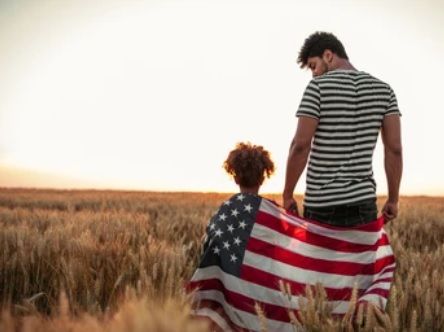 Mark Van der Veen offers some of the most analytical and insightful writings on politics. He regularly opines on the motives and political calculations of politicians and candidates, and whether or not their strategy will work. Van der Veen offers a contrast to many on this list by sticking mainly to a fact-based style of writing that is generally combative with opposing ideologies.