Internal Messages Reveal That Union Pacific Backs Off Biden's Vaccine Mandates As Majority Of Their Workers Remain Unvaccinated
Last month three unions representing workers at Union Pacific Corp (UNP.N) filed lawsuits against the U.S. railroad operator's move to make vaccines mandatory for its 31,000 employees under a deadline imposed by the Biden administration for federal contractors.
Union Pacific said they filed suit against the unions, saying the action was necessary to prevent any disruption of its rail network "and to avoid any impact on America's supply chain, as it continues to recover from the pandemic."
Union Pacific asked a judge to "have any dispute over the mandate resolved through the various dispute resolution procedures outlined in the Railway Labor Act."
The lawsuits were filed in U.S. District Court in Northern Illinois.
The union lawsuits said workers who were vaccinated would be paid a $300 incentive and that Union Pacific did not engage union officers or attempt to engage in any bargaining over the matter before imposing the mandate.
And it seems that yesterday the workers finally won!
Union Pacific announced unvaccinated employees will not be removed on the December 8, 2021, deadline. These members will continue to work.
The company has not set up a new timeline for the unvaccinated.
This text message came from a union official at Union Pacific.
Image below:

This comes after only 44% of the Union Pacific workforce took the Covid-19 vaccine.
After this victory today Biden's federal vaccine mandate has finally been issued and it will deploy a national policing force to ensure compliance as Becker News reported!
"US regulators finalize rule requiring Americans who work at big companies to get vaccinated by Jan. 4 or test weekly," the AP reported on Thursday without providing further details.
"The Biden administration ordered U.S. companies Thursday to ensure their employees are fully vaccinated or regularly tested for Covid-19 by Jan. 4 — giving them a reprieve over the holidays before the long-awaited and hotly contested mandate takes affect," CNBC reported.
"The administration on Thursday also pushed back the deadline for federal contractors to comply with a stricter set of vaccine requirements for staff from Dec. 8 to Jan. 4 to match the deadline set for other private companies and health-care providers," the report added.
"The newly released rules, issued by the Occupational Safety and Health Administration under the Labor Department, apply to businesses with 100 or more employees," the report noted. "All unvaccinated workers must begin wearing masks by Dec. 5 and provide a negative Covid test on a weekly basis after the January deadline, according to the requirements. Companies are not required to pay for or provide the tests unless they are otherwise required to by state or local laws or in labor union contracts. Anyone who tests positive is prohibited from going into work."
"Companies also have until Dec. 5 to offer paid time for employees to get vaccinated and paid sick leave for them to recover from any side effects," the report added.
The Occupational Safety and Health Administration will also be policing workplaces nationwide to ensure compliance with the unlawful mandate.
"OSHA, which polices workplace safety for the Labor Department, will provide sample implementation plans and fact sheets among other materials to help companies adopt the new rules," CNBC reported.
"OSHA will also conduct on-site workplace inspections to make sure companies comply with the rules, a senior administration official said. Penalties for noncompliance can range from $13,653 per serious violation to $136,532 if a company willfully violates the rules," the report added.
"The vaccine mandate, which covers 84 million people employed in the private sector, represents the most expansive use of federal power to protect workers from Covid-19 since the virus was declared a pandemic in March 2020," it continued.
"Biden's vaccine mandate for large employers begins Jan 4, with hefty fines for noncompliance," Disclose reported. "OSHA plans to send out agents to check that workplaces are in compliance with the rule. For willful violations, a company can be fined up to $136,532. The standard penalty is $13,653 for a single violation."
OPINION: This article contains commentary which reflects the author's opinion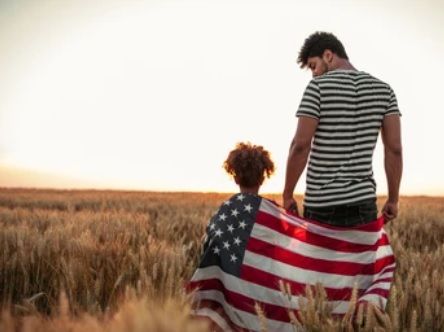 Mark Van der Veen offers some of the most analytical and insightful writings on politics. He regularly opines on the motives and political calculations of politicians and candidates, and whether or not their strategy will work. Van der Veen offers a contrast to many on this list by sticking mainly to a fact-based style of writing that is generally combative with opposing ideologies.