The Reaction Of The ASL Interpreter When Biden Claimed That 350 Million Have Been Vaccinated (Photos & Video)
When Tony Coelho wrote the American with Disabilities Act 31 years ago, his goal was to ensure that people with disabilities could participate in the workforce with equal opportunities of inclusion and success.
Three decades later, people with disabilities — the largest minority group in the country — remain underrepresented in the workforce, particularly within the federal workforce.
But Biden's administration went one step further!
They even fired their ASL interpreter after her support for former President Donald Trump was uncovered in videos posted online.
An online petition called for the removal of American Sign Language (ASL) interpreter Heather Mewshaw back in January and in February, Heather Mewshaw said that she hasn't been offered a return engagement since it was revealed that she supports Trump, and blasted critics who attacked her credibility and professionalism.
Well, the current ASL interpreter could become viral for her reaction after Biden claimed that 350 million Americans (106% of our population) got vaccinated and they are doing fine.
Here's the video:
That's a wrap, folks. 106% of Americans have been vaccinated. Good work.
pic.twitter.com/VdgaZPiD9j

— Tyler Cardon (@TyCardon) August 6, 2021
And here's the video with the ASL interpreter:
Twice, Biden looked at his notes and told the world that 350 million Americans had been vaccinated. pic.twitter.com/49dlegK0UX

— Charlie Spiering (@charliespiering) August 6, 2021
Our team managed to capture a very interesting moment from the current ASL interpreter:


We can imagine Heather Mewshaw's reaction if she was still working in the White House!
As usual Joe Biden struggled to read his own notes because of his cognitive decline.
Joe Biden is likely talking about how many doses of the vaccine have been given but his brain is so far gone that he can't distinguish between doses and fully vaccinated.
166 million Americans, or 50% of the population are fully vaccinated.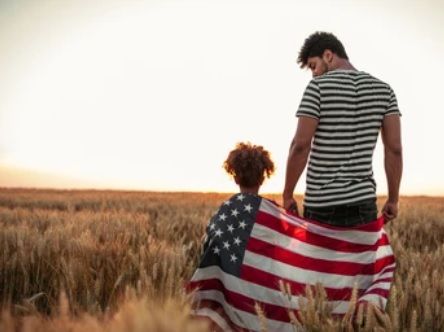 Mark Van der Veen offers some of the most analytical and insightful writings on politics. He regularly opines on the motives and political calculations of politicians and candidates, and whether or not their strategy will work. Van der Veen offers a contrast to many on this list by sticking mainly to a fact-based style of writing that is generally combative with opposing ideologies.