The Manifesto Which Is Now Blocked By Google Shows That The Buffalo Shooter Is A Self-Described "Authoritarian Leftist" Who Hates Fox News – The Left Claims That The Shooting Is Tucker's Fault
A white 18-year-old wearing military gear and livestreaming with a helmet camera opened fire with a rifle at a supermarket in Buffalo, killing 10 people and wounding three others Saturday in what authorities described as "racially motivated violent extremism."
Police said he shot 11 Black and two white victims before surrendering to authorities in a rampage he broadcast live on the streaming platform Twitch.
Later, he appeared before a judge in a paper medical gown and was arraigned on a murder charge.
"It is my sincere hope that this individual, this white supremacist who just perpetrated a hate crime on an innocent community, will spend the rest of his days behind bars. And heaven help him in the next world as well," said Gov. Kathy Hochul, speaking near the scene of the attack.
If you want to know where this guy falls on the political spectrum. He's a former communist now leftist who is also into green nationalism:
The left seems to be blaming Tucker Carlson for the shooting:
A real feather in @TuckerCarlson's cap. https://t.co/uQzQpMmqNQ

— FreshMouthHat (@Popehat) May 14, 2022
The Buffalo killer's manifesto reads like a job application for a junior producer on Tucker Carlson.

And no, I'm not being flippant.

— Rick Wilson (@TheRickWilson) May 14, 2022
More blood on the hands of @tuckercarlson and @foxnews this killer used their racist talking points to justify killing 10 people. Carlson won't stop because as he explained to the NYTimes, it's good for ratings. Lives be damned. As Carlson will be at judgement day. https://t.co/fse5bRvEbN

— Joe Lockhart (@joelockhart) May 14, 2022
However, this isn't true because he blamed Fox News in his manifesto:
The shooter explicitly attacks Fox News in his deranged manifesto, you despicable liar. https://t.co/FljK1cXJxs

— Arthur Schwartz (@ArthurSchwartz) May 14, 2022
Defiant America also reported that he was wearing the same sign that the Azov Battalion from Ukraine is wearing!
In 2019, US House reps were mad at Secretary of State Mike Pompeo for not putting certain violent white supremacist extremist groups on the FTO.
The Christchurch shooter, for instance, claimed to have trained with the Azov Battalion in Ukraine.
Update:
Google Docs has blocked access to the shooter's online manifesto, which reads like an interview. Apparently, he considered himself "in the mild-moderate authoritarian left category."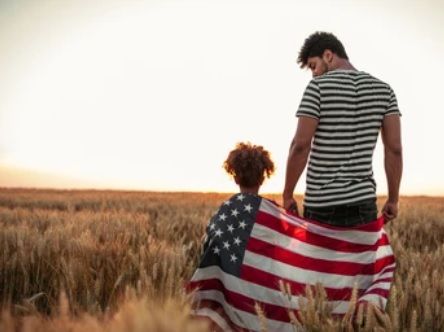 Mark Van der Veen offers some of the most analytical and insightful writings on politics. He regularly opines on the motives and political calculations of politicians and candidates, and whether or not their strategy will work. Van der Veen offers a contrast to many on this list by sticking mainly to a fact-based style of writing that is generally combative with opposing ideologies.