Photo: Jan. 6 Political Prisoners Taken Out Of Cells On Stretchers After A Chemical Attack By DC Prison Guards
Per two Capitol riot defendants, there was an incident in Jan 6 wing of the DC jail in the past 24 hours
Both say mace was used by officers. In the court filing, one of the inmates says there was "disturbance"… another told a judge today that the spray impacted inmates breathing.
Image from the cour filling below:

Multiple Jan. 6 defendants were taken out of their cells on stretchers on Thursday, according to a court filing.
The situation started when one of the defendants refused to wear a mask, family members of Kelly Meggs, who is being held in the D.C. Jail, told Meggs lawyer.
Prison guards began spraying a chemical substance described as "some kind of mace or pepper spray, according to a filing in federal court.
"They sprayed mace or some type of gas at an inmate and kept missing so it went into an intake that fed into other cells and the lady with the key left because she didn't like the gas, so the inmates in the cells who were being fed the gas from that intake were locked in for like 15 minutes while it was going into their rooms and they couldn't see/breathe," the family told Jonathon Moseley, the lawyer.
More than one of the defendants was taken out on stretchers to medical bays.
Julie Kelly, a writer for the American Greatness, reported on Wednesday that prison guards filled an area of the jail with chemical spray and three detainees had to be taken out on stretchers.
You can view the full court filing below:

But even if the mainstream media ignore this situation a photo has surfaced that actually shows the chemical attack!
Photo below:
Representative Marjorie Taylor Greene described inmates being held at a Washington, D.C., jail in connection with the January 6 Capitol riots as "political prisoners of war."
The tweet from the Georgia freshman lawmaker follows her criticism of the conditions faced by those being charged over the insurrection at the U.S. Capitol.
Last week, she said she had visited what she described as the "patriot wing" of the jail, tweeting that inmates had "virtually no medical care, very poor food quality, and being put through re-education," without giving further details.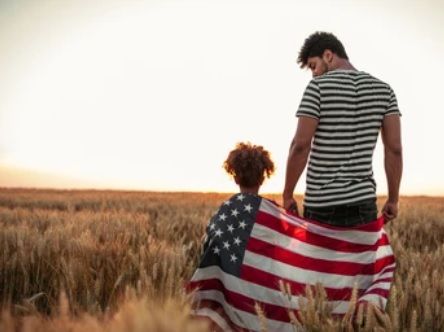 Mark Van der Veen offers some of the most analytical and insightful writings on politics. He regularly opines on the motives and political calculations of politicians and candidates, and whether or not their strategy will work. Van der Veen offers a contrast to many on this list by sticking mainly to a fact-based style of writing that is generally combative with opposing ideologies.