Biden Forgot His Note Cards Today In Israel So He's Shaking Hands With The Ghost Again (Video)
During a joint news conference with Israeli Prime Minister Yair Lapid on Thursday morning in Jerusalem, President Biden said he was "given a list" of reporters to take questions from.
The president made the gaffe after taking one question from an Israeli reporter. Afterwards, he was prompted to call on more reporters, when he said, "Um, sure. Uh, I was given a list here," before reading off the name of Reuters reporter Steve Holland.
As the conference went on, Biden repeatedly looked down at his list to call on reporters. "The next person to ask us a question, I guess, is Nadia [Bilbassy]," he said referring to a reporter for an Arabic news outlet.
The gaffe came one day after Biden misspoke while referring to the Holocaust, shortly after landing in Israel to begin the first leg of his Middle East trip.
"Later today, I will once more return to the hallowed ground of … Yad Vashem to honor the 6 million Jewish lives that were stolen in a genocide and continue — which we must do every, every day — continue to bear witness, to keep alive the truth and honor of the Holocaust — horror of the Holocaust — honor those we lost, so that we never, ever forget that lesson, you know, and to continue our shared, unending work to fight the poison of anti-Semitism wherever it raises its ugly head," Biden said
Today Biden received Israel's Presidential Medal of Honor on Thursday in recognition of 50 years of support for the country in his career as a politician.
Israeli Prime Minister Isaac Herzog praised Biden's "uncompromising decades-long commitment to Israel's security" as he presented Biden with the award. Biden called the award a "great honor."
In brief remarks at the ceremony, Biden, 79, "joked" that "it's hard to say these words 'for over 50 years.'"
He noted that the crowd included representatives of all faiths, as well as ambassadors of the Arab countries which have signed peace accords with Israel, noting that 50 years ago such an audience would have been unfathomable.
Biden assured Herzog that "America's commitment to Israel's security remains ironclad, today and in the future."
He added: "That commitment is not about me or any other American president. It springs from a deep affinity and enduring connection between our peoples."
Video below:
BIDEN: "It's hard to say these words — for over 50 years — I can't be that long" pic.twitter.com/ao5X8HHVFC

— RNC Research (@RNCResearch) July 14, 2022
But if his previous "joke" made it through his next move shows that Biden again forgot his notecard and appears to shake a thin air again because he wasn't trying to show anything at that moment.
Video below:

(This post may contain disputed claims. We make no assertions as to the validity of the information presented by our Opinion Columnist. This is an opinion article, and this post should be treated as such. Enjoy.)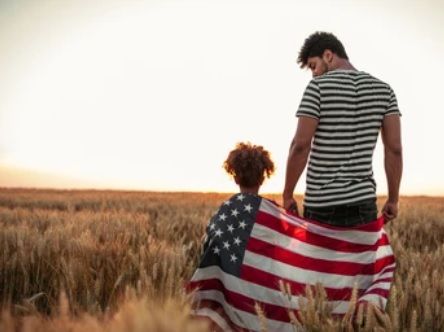 Mark Van der Veen offers some of the most analytical and insightful writings on politics. He regularly opines on the motives and political calculations of politicians and candidates, and whether or not their strategy will work. Van der Veen offers a contrast to many on this list by sticking mainly to a fact-based style of writing that is generally combative with opposing ideologies.