Biden Embarrassed America Once Again As He Walked Down The Stairs At The G-7 Summit (Video)
US President Joe Biden and fellow world leaders unveiled tough new sanctions on Russia as they prepared to hear in-person later this weekend from Volodymyr Zelensky, who officials said was planning a dramatic trip to Japan as he continues to appeal for military assistance amid Russia's invasion.
The new sanctions are designed to plug loopholes and go after untapped industries as Western leaders continue to work toward choking off Moscow's war financing.
Leaders from the Group of Seven nations, which is comprised of the United States, Japan, Germany, the United Kingdom, France, Canada and Italy, met Friday afternoon in the Japanese city of Hiroshima where the war was a central topic of discussion as Ukrainian forces prepare for a counteroffensive.
But who should be afraid of these nations when their "leader" embarrassed the USA and the Western world once again!
President Joe Biden tripped as he walked down the stairs of the Itsukushima Shrine on Friday in his rush to greet Japanese Prime Minister Fumio Kishida.
The president was running late – all the other G7 leaders had arrived on Miyajima Island and were waiting on him to begin the tour of the holy site – when he stumbled and caught himself before he fell.
He and Kishida continued on as if the slip didn't happen, joining the rest of the heads of state to see the iconic 'floating' torii gate.
Video below:

Here are more videos of Biden's embarrassing display today:
Biden needs directions to locate the group of other world leaders gathered at the G7 Summit in Hiroshima, Japan pic.twitter.com/ERZMliLufE

— RNC Research (@RNCResearch) May 19, 2023
Biden grows a bit impatient as he waits for his handler to instruct him to go pic.twitter.com/jGOmA2Y7Tt

— RNC Research (@RNCResearch) May 19, 2023
Biden who is the oldest U.S. president, has faced and dismissed questions about his age, particularly as he campaigns for a second term in the White House.
His doctor has declared him healthy and fit to serve but has conceded the president's gait is 'stiff.' Biden has tripped before – twice boarding Air Force One: in March 2023 and in March 2021.
Earlier in the day, Biden needed guidance when he fumbled for a spot during a photo op with Kishida and their wives.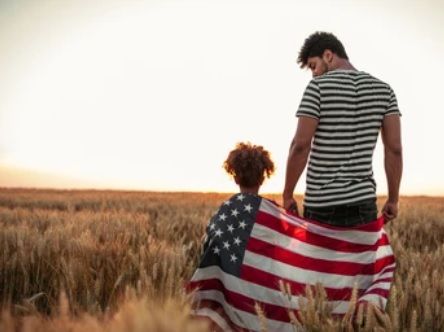 Mark Van der Veen offers some of the most analytical and insightful writings on politics. He regularly opines on the motives and political calculations of politicians and candidates, and whether or not their strategy will work. Van der Veen offers a contrast to many on this list by sticking mainly to a fact-based style of writing that is generally combative with opposing ideologies.