Associated Press Gate – VA Dem Susanna Gibson's (hotwifeexperience) story just got worse …
Congressional Democrats from Virginia are trying to distance themselves from a Democratic candidate for the state House of Delegates after it was revealed she performed online sexual acts with her husband for money.
Susanna Gibson, a 40-year-old nurse practitioner gunning for a competitive district seat outside of Richmond that could help determine control of the Virginia House, has made recent campaign appearances with fellow Democrats such as Rep. Abigail Spanberger and Sens. Mark Warner and Tim Kaine.
Mrs. Gibson livestreamed sexual acts with her husband that were requested by viewers who paid her "tips." She livestreamed the sex show on the website Chaturbate before her campaign, according to more than a dozen videos reviewed by The Washington Post.
But her story is keep getting worse!
Democrats finally found the "pee tape" they've been promising.
Only it does not involve hookers in a Moscow hotel room six years ago, and former President Donald Trump had nothing to do with it.
"Yeah, you can watch me pee," says Susanna Gibson, Democrat candidate for the Virginia House of Delegates and star of the newly-surfaced "pee" tape. "Y'all can watch me pee if you tip me and some tokens again I'm raising money for a good cause."
But that's not all AP also decided to protect her!
The Daily Wire bombshell on Susanna Gibson, the VA Dem who talked about forcing unsuspecting hotel staff to take part in her porn & solicited payments on publicly live-streamed videos so users could "watch me pee":
"Correspondence viewed by The Daily Wire shows the Associated Press was tipped off about the pornographic content on September 4, but chose not to do anything with the story."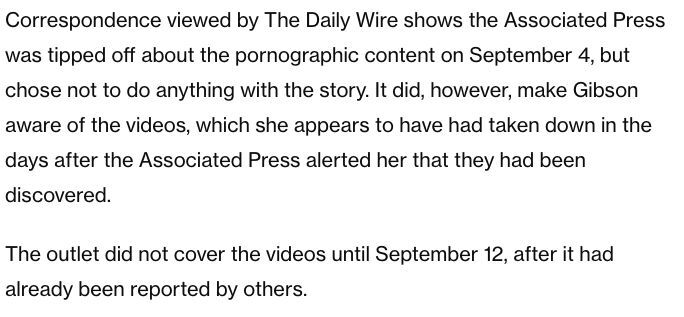 Gibson responded by going on the attack. She denounced the story as a "leak," and the liberal media dutifully adopted the term. But to anyone not blinded by partisan dogma, Gibson's outrage is absurd on its face. Her entire goal was, obviously, to get people to watch.

Natalie Dagenhardt is an American conservative writer who writes for  Right Journalism! Natalie has described herself as a polemicist who likes to "stir up the pot," and does not "pretend to be impartial or balanced, as broadcasters do," drawing criticism from the left, and sometimes from the right. As a passionate journalist, she works relentlessly to uncover the corruption happening in Washington. She is a "constitutional conservative".