After 22 Americans Lost Their Lives: Here's The Disgusting Thing That Biden Administration Forced His Citizens Trapped In Israel To Sign If They Decide to Be Rescued by US Government
At least 22 U.S. citizens have been killed during the Hamas attacks on Israel, National Security Council spokesperson John Kirby said at a news conference Wednesday.
Kirby couldn't confirm details on where or how the Americans were killed, as the "individual circumstances are not exactly clear," he said.
The attacks have claimed more than 1,200 lives in Israel. At least 1,100 have been killed in the Gaza Strip, the Gaza Ministry of Health said Wednesday.
Seventeen Americans remain unaccounted for, Kirby said on Wednesday. "A number" of the missing are hostages of Hamas, he said, but would not give a number.
"We need to steel ourselves for the very distinct possibility these numbers will keep increasing," said Kirby. He said,"more Americans might be part of the hostage pool."
White House National Security spokesman John Kirby was pressed on why the Biden administration appears to have left Americans stranded in Israel to fend for themselves, even as more than a dozen other countries have evacuated their citizens.
"I want to start with the efforts to get Americans out of Israel right now," NewsNation correspondent Blake Burman told Kirby. "I think Sen. Josh Hawley sort of summed it up what many people are asking. Here's a social media post he put out, Here's that quote: 'For the second time in two years, Americans are stranded in a war zone. What's the plan to get them out? How can you answer that question?'"
"Well a couple of things here: First of all, commercial flights are still going in and out of Ben Gurion airport, so that's always an option for those who may want to leave," Kirby said.
"How was it that we are seemingly behind several countries on this front?" Berman followed up after noting that Fiji, Hungary, and South Korea have already evacuated their citizens.
"I think I would take issue with you that we're behind anybody here. We have been exploring options and continue to do that," Kirby replied. "I would just say stay tuned, I think we'll have more to say very soon about what some of those options are going to look like."
"Senator @HawleyMO sort of summed it up, what many people are asking … he said, 'For the second time in two years, Americans are stranded in a war zone. What's the plan to get them out?'"

JOHN KIRBY: Buy a commercial flight pic.twitter.com/g0cBW3KiLH

— RNC Research (@RNCResearch) October 11, 2023
The comments come after President Biden instructed Americans earlier this week to explore "ground options" and said "commercial flights" were still available, despite most major airlines canceling services out of the country.
"Panicked" Americans have been desperately reaching out to their representatives in Congress for help.
Over 140 lawmakers signed a letter calling on the State Department to "use every tool at its disposal to get Americans out," while others, like Rep. Cory Mills (R-FL) took matters into their own hands.
In a time when Americans in Israel are relying on their government for support and protection, the U.S. State Department's Consular Affairs Crisis Management System (CACMS) has left many American citizens hanging in the wind, demanding them to sign promissory notes as a precondition for any assistance in evacuating from the crisis-hit region.
The so-called "assisted departure options" were outlined in an email sent to American citizens stranded in the Middle Eastern nation, stating that the U.S. government would offer loans for transportation.
The Biden regime's assistance to Americans wishing to depart Israel will come at a financial cost. Specifically, the email states that "departure assistance is provided via a loan from the U.S. government, which requires travelers to sign a promissory note (an agreement to repay) prior to departure."
The email read as follows:
The situation in Israel is still unpredictable; mortar and rocket fire may take place without warning. Please continue to follow the instructions of security and emergency response officials. Commercial flights are available but limited. If you wish to leave Israel, we encourage you to take advantage of those options now. U.S. carriers have temporarily suspended flights to Israel, if you choose to depart, you will need to fly to an intermediate location and book onward travel from there to the United States.

We understand there is high demand from U.S. citizens wishing to depart and the flight options are reduced. In the coming days we hope to assist U.S. citizens with transportation options to depart Israel. Due to the large numbers of U.S. citizens indicating interest in departure assistance, we will plan to offer transit over several days. If you choose to take this departure assistance, transportation may be by air or sea and will be to a nearby safe location and not to the United States. Travelers should be prepared to arrange their own lodging at the safe location and pay for their own onward travel from the third country to their chosen destination. Departure assistance is provided via a loan from the U.S. government which requires travelers to sign a promissory note (an agreement to repay) prior to departure.
While Poland, Hungary, Brazil, Romania, and other countries sent planes to bring their citizens home from the war zone, our government told us to fend for ourselves. I literally called our embassy asking for help and was essentially told to pound sand.
Is this what it means to be an American abroad?
Almost all American airlines received taxpayer bailouts, and they were the first to abandon us. They were the first to cancel all flights.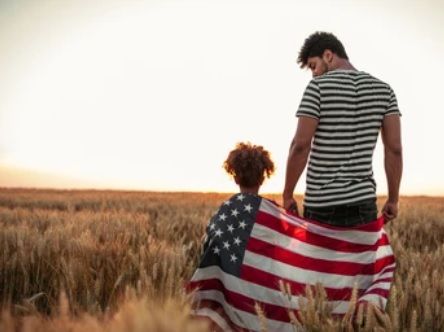 Mark Van der Veen offers some of the most analytical and insightful writings on politics. He regularly opines on the motives and political calculations of politicians and candidates, and whether or not their strategy will work. Van der Veen offers a contrast to many on this list by sticking mainly to a fact-based style of writing that is generally combative with opposing ideologies.