5 Adults Killed, 2 Children Injured In A Fourth Of July Mass Shooting Exclusive Video Shows The Gunman In A Bulletproof Vest
Five adults were killed and two children were injured during a mass shooting on Monday night in the Kingsessing section of Philadelphia. The suspected gunman, who was wearing a bulletproof vest, was taken into custody, police say.
It all started around 8:30 p.m., on the eve of Independence Day, in the area of 56th Street and Chester Avenue.
Police say people called 911 to report a shooting and others flagged down officers.
Police say at least 50 shots were fired at the scene and multiple vehicles were struck.
Arriving officers found gunshot victims at the scene. As officers began to put the victims in their patrol cars to take them to the hospital, they heard more gunfire and ran towards the sound.
A local witness emailed us with information that a good samaritan tried to stop the shooter but didn't do it and he is now in custody!
An exclusive video that we've received this morning seems to show the shooter wearing tactical gear or bulletproof vest and that was later confirmed by the police!
We are sorry for the quality of the video but that was the only video from the shooting that we have so far!
It was taken from old security cameras and Philadelphia has a lot of them sadly…
Video below:
The identity of the shooter is not yet revealed but the race of the shooter was known to the police even before they made the arrest!
From the police scanner below we can also tell that the suspect was firing towards police with a handgun before being stopped.
Audio below:
Police say officers found the 40-year-old male suspect; they chased after him and were able to corner him.
"Our officers were able to apprehend the male in the rear alley of 1600 Frazier Street and when they did, this male was wearing a bulletproof vest with multiple magazines. He also had a (police) scanner, an AR-style rifle and a handgun," Philadelphia Police Commissioner Danielle Outlaw said.
Police told Action News that a total of seven people were shot during the melee as the gunman opened fire on the street. The total number of victims had changed overnight and into Tuesday morning as police gathered more information.
It was an emotional scene late Monday night outside Penn Presbyterian Medical Center, as family members of those who were killed found out the news that their loved ones had died.
The five people killed ranged in age from 20 to 59 years old.
Using data from the Gun Violence Archive, James Alan Fox, a criminologist at Northeastern University, found that there have been 52 mass shootings on the Fourth of July over the past decade, averaging just over five a year, and more than on any other given day.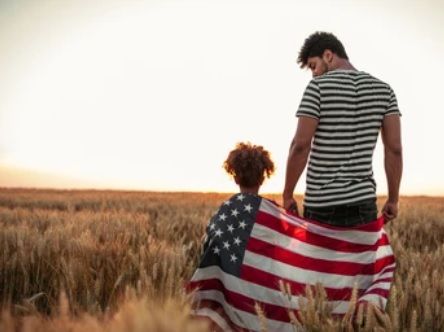 Mark Van der Veen offers some of the most analytical and insightful writings on politics. He regularly opines on the motives and political calculations of politicians and candidates, and whether or not their strategy will work. Van der Veen offers a contrast to many on this list by sticking mainly to a fact-based style of writing that is generally combative with opposing ideologies.